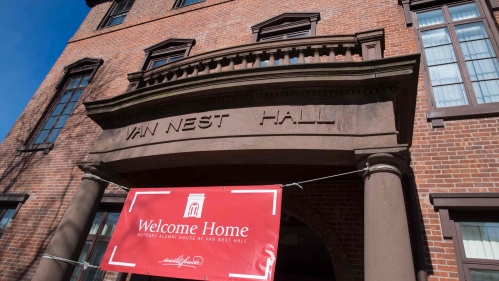 Executive Leadership Team
Rutgers University Foundation enhances Rutgers' mission of excellence in education, research, and public service.
The foundation is governed by a Board of Directors, at least 25 percent of which shall be ex officio directors and elected directors who, at the time of their election, also served as members of the Board of Governors or Board of Trustees of Rutgers. Rutgers University Foundation is a New Jersey nonprofit corporation established under Section 501(c)(3) of the Internal Revenue Code for educational and charitable purposes. Gifts made through the foundation are deductible for federal income, gift, and estate tax purposes to the extent allowed by the law.
Amy L. Towers, Chair
Gary Chropuvka, Vice Chair
Lisa Dolly, Vice Chair
Betsy McNeilly, Vice Chair
Kimberly A. Hopely, President
J. Michael Gower, Treasurer
Christopher P. Zraly, Associate Treasurer
Duncan L. MacMillan, Secretary
Mark Antonucci, Assistant Secretary

James P. Berg, RC'99, NLAW'03
William E. Best, Ex officio
Bruce Bingham, RC'68
Gary W. Chropuvka, RC'93
Alan Crosta, Jr., RC'86, NJMS'90, Ex officio
Margaret T. Derrick, NCAS'71
John A. DiCiurcio, ENG'79
Daniel DiFilippo, NCAS'83
Lisa Dolly, DC'88
Robert Falzon, RC'81
Michael Gower, Ex officio
Peggy Guiliano, DC'92
Mark P. Hershhorn, RC'71
Jonathan Holloway, Ex officio
Kimberly A. Hopely, Ex officio
Frank Hundley, RC'86
Carolynn L. Johnson, RBSG'12
Kenneth R. Johnson, ENG'67
Richard Kent, RC'72
Bruce P. Kerzic, RC'83
Tilak Lal, ENG'84
Donald Lomurro, RC'73
Duncan L. MacMillan, RC'66
Michael A. Margolis, PHARM'97
Elizabeth J. McNeilly, RC'85
Omotayo Okusanya, RC, RBSNB'96
Mary Papamarkou, DC'90
Mia Christine Park, RC'87
Sean M. Pattwell, GSNB'91, GSC'14
Reema Puri, COOK'98, GSNB'01
Patricia Devitt Risse, PHARM'85, DPRM'93
Philip Scalo, RC'75, NLAW'78, Immediate Past Chair
John J. Sivolella, RC'87
Richard D. Stanzione, RC'67
Ann M. Stock
Amy Towers, Chair
Peter Tverdov, UCNB'09
Gloria Vanderham, RC'00, SCILS'00, Ex officio

Atiya Aftab, RC'88, NLAW'91
Richard A. Alaimo, ENG'56
Michael J. Angelides, RC'82
Subha Barry
Steven B. Boehm, RC'75, NLAW'78
Marlene A. Brandt, RC'80
Arthur Certosimo, RC'77
Charles Chang, GSNB'75
Edward Chaplin, RC'78
Peter D. Cherasia, ENG'84
Kevin J. Collins, NLAW'64
Alan M. Crosta, Jr., RC'86, NJMS'90
Steven M. Darien, RC'63
Louis T. DiFazio, PHARM'59
James Dougherty, RC'74, GSNB'75
Harriett Druskin
Scott Franzblau, LC'79
Albert R. Gamper, Jr., UCNWK'66
Ronald Garutti, RC'67
Ronald W. Giaconia, RC'58
Michael N. Goodkind, ENG'65
Leslie Goodman, RC'65, RBSG'70, CLAW'80
Frederick E. Gruninger, ED'53, GSED'61
Keiko T. Harvey, ENG'72
Carleton A. Holstrom, GSNB'62
Gretchen W. Johnson, DC'63
Sharon M. Karmazin, DC'67, SCILS'69
Herbert C. Klein, RC'51
Allan Maitlin, RC'58
Ernest Mario, PHARM'61
Kevin D. McGrath, LC'88
Thomas McKay III, RC'69
Vaughn L. McKoy, LC'90, NLAW'93
Joseph Moroney, ENG'94
Bruce S. Nicholas, ENG'49
Gene O'Hara, UCN'62
Brian D. Perkins, RC'76
Daniel Reinhardt, RC'91
Thomas A. Renyi, RC'67, RBSG'68
Gary M. Rodkin, RC'74
Philip S. Schein, RC'61
Leo B. Schoffer, RC'74
Richard H. Shindell, RC'57
Steven H. Temares, RC'80
Bernice P. Venable, DC'62, GSNB'67, GSED'83
Lucas J. Visconti, SEBS'82
Thomas Werblin, RC'76
Scott E. White, RC'95, RBSG'95
Three-Year Terms expiring June 30, 2024

Three-Year Terms expiring June 30, 2025

Three-Year Terms expiring June 30, 2026

Jim Rhodes CCAS'94
Christine Tiritilli DC'92
Maurice Griffin NLAW'94
Tim Farrow CLAW'99
Joe Lemkin RC'90
Greg Bedard RC'97
Debra O'Neal LC'87