Commitment to the Common Good
Fostering inquiry and innovation through research
Propel discovery and innovation.
As an epicenter of innovation, Rutgers is enacting its land-grant charter through extraordinary, real-world innovation, life-changing research, and much more—all in service to the public good.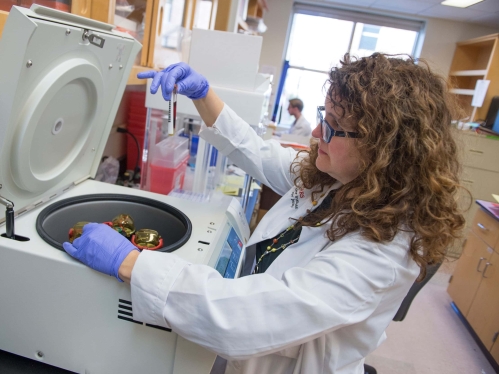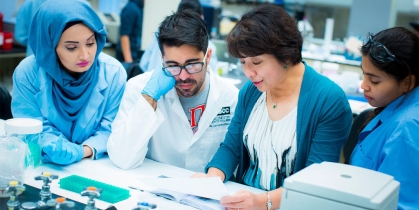 Breakthroughs in knowledge—whether technology, the humanities, health care, or another discipline entirely—are the essence of a top research university. At Rutgers, we have a centuries-long track record of discovery, from finding a cure for tuberculosis to developing eco-friendly building materials, to improving food supply and quality.
Rutgers' charge as a land-grant university spurs hands-on learning and innovation. Our students can be found deep in laboratories and out in the field, alongside some of the world's most talented minds in the quest for new knowledge and discoveries.
The work Rutgers does through the excellence of its health systems, scholarly research, and outreach programs propels the creation, sharing, and application of knowledge. The results of Rutgers research improve quality of life, promote prosperity, and enrich humanity in so many ways—from detecting nuclear threats to creating the world's biggest network of ocean data, exploring the microbiome, and developing responses for the next pandemic. Our collaborations with local and global partners address societal challenges and improve the lives of people in New Jersey and around the world.
One striking example: the Rutgers Youth Behavioral Health Initiative, which is building vital infrastructure to develop and expand access to comprehensive, evidence–based care for New Jersey's young people. A cornerstone of this project is the Brandt Behavioral Health Treatment Center and Residence, the state's first treatment facility exclusively for adolescents and young adults and backed by an academic health leader like Rutgers. Upon completion, the facility will serve 220 residential patients and more than 1,400 outpatients per year. The initiative is also dedicated to training the next generation of mental health providers in this integrated academic, research, and clinical setting.
Similarly ambitious projects abound throughout Rutgers. The research productivity of our scholars is breathtaking, and the pace is accelerating. In the past year, Rutgers researchers secured nearly $900 million in awards from the federal government, the state of New Jersey, corporate partners, foundations, and associations. What were these awards for? Among many others, improving access to COVID-19 testing for vulnerable communities in New Jersey; a research hub focused on large-scale coastlines science; grants to help students and teachers improve STEM learning; an institute for the study of global racial justice; and more.
Taken together, these programs are about finding solutions to problems that diminish our daily quality of life and, if unchecked, will radically compromise the security of our futures. This is scholarship in service to the common good.
Make a Difference
Help provide world-class behavioral health care to young people in New Jersey and the region, regardless of their families' income.