Rutgers Distinguished Alumni Awards Ceremony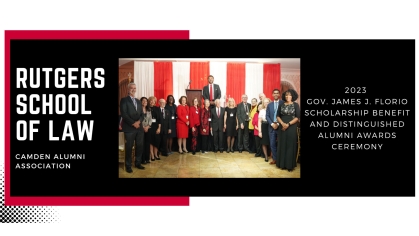 We are thrilled to invite you to save the date for this year's Rutgers Law School Gov. James J. Florio Scholarship Benefit and Distinguished Alumni Awards Ceremony
(also known as the "DAAC" or the "Scholarship Benefit").
The Alumni Association holds this event to not only recognize the incredible accomplishments of the honorees but also to raise funds for the Scholarship Fund to support the Rutgers students.
We are grateful to continue to hold the Scholarship Benefit as a result of the generous support of our alumni.  The Scholarship Fund has helped between 6-10 students on an annual basis since its inception in 1983.
This event recognizes Rutgers Law School graduates who have reached extraordinary heights, excelling in their careers while giving back to their alma mater and humankind at large.   We hope you will join us for a seated dinner and top-shelf open bar.
We will honor these three distinguished alumni for their professional success and community impact:
CARLOS M. BOLLAR, Partner at Archer & Greiner, P.C. (Class of 1997) will be awarded the Arthur E. Armitage, Sr. Distinguished Alumni Award.
ANGELA V. BAKER, Associate Dean of Student Affairs at Rutgers University (Class of 1985) will be awarded the Honorable Joseph M. Nardi Jr. Distinguished Service Award.
SAMANTHA R. GROSS, Corporate Counsel at Pfizer (Class of 2014) will be awarded the Distinguished Recent Graduate Award.
Sponsorship opportunities are available, more info can be found REGISTER.